King crab with a snowmobile on the frozen fjord
This is the toughest winter adventure. Snowmobiles, a frozen fjord and one of the giants of the sea.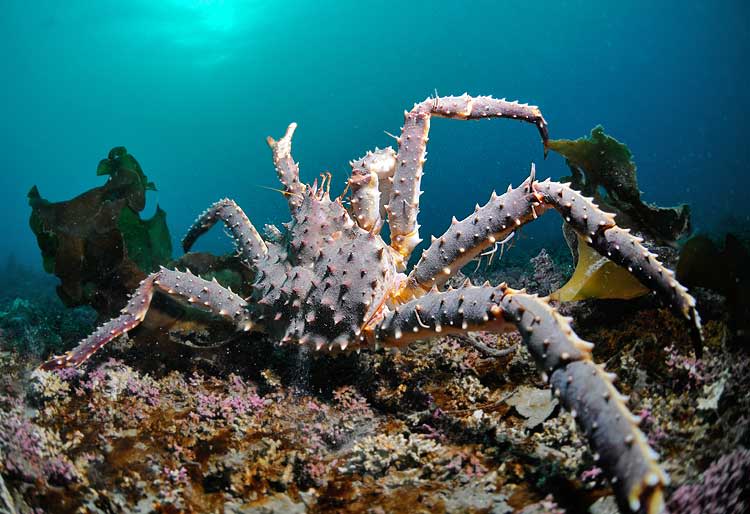 About the excursion
The bus takes you from the quay to the base to get changed and receive safety instructions. You are driven out to the ice with a snowmobile and sled where you pull crab pots with local fishermen. Feast on king crab at the local fjord restaurant before the bus takes you back to the quay.
Direction: Both Directions
Disembarkation port: Kirkenes
Embarkation port: Kirkenes
Time: 09:00-12:00 
Meal: Generous servings of king crab
Level: 1 (2) (Read more)
Season: Winter (12 Dec - 20 Apr) 
Min/max persons: 1/24
Booking reference: KKNB6
Price: From £ 218 - $ 264 per person
Several hundred metres below the fjord's layer of ice, the king crab moves along on its long claws and legs. At most, this crab can grow up to two metres from pincer to pincer. With their giant legs, they move about down in the icy darkness before some of them are lured into the pots waiting for you to haul them up onto the ice. 
You are transported out to this adventure by snowmobile and sled and to a warm, rustic restaurant to taste the catch. 
The dark red, spiky shell of the king crab hides a soft, almost sweet, completely white meat. Many people prefer it to lobster. And here you get it served in the classic Norwegian way: fresh, juicy and irresistible. Portion sizes are on the generous side, so no one should leave the table hungry. 
Other excursions in Kirkenes