King crab fishing in a RIB
You get to haul the king crab up from the depths before the RIB takes you back to the quay and the rustic restaurant where you can enjoy a sumptuous meal of white, juicy crab meat.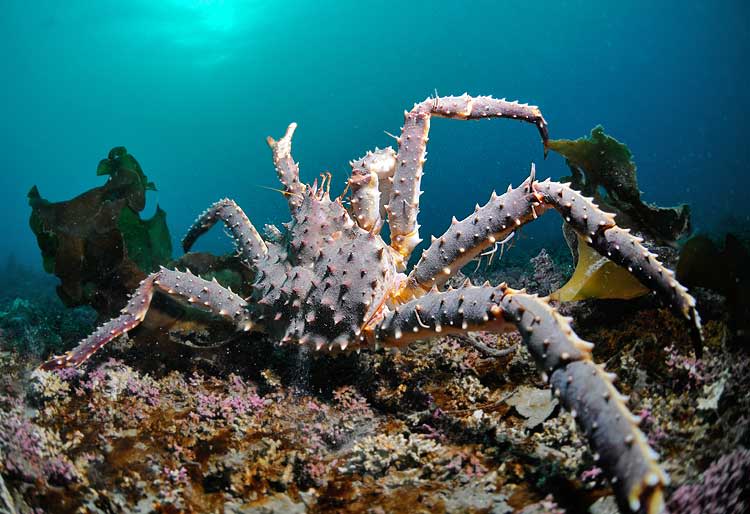 About the excursion
Transport, guide, warm clothes and survival suits are included in the price. Getting changed and safety instructions at the base. Bus there and back. Children must be at least 7 years old.  The trip is suitable for most people, but you must be able to sit on the "saddle seat". Not recommended for people with back problems.    
Direction: Both Directions
Disembarkation port: Kirkenes
Embarkation port: Kirkenes
Time: 09:00-12:00
Meal: Generous portions of king crab
Level: 1 (2) (Read more)
Season: Summer (21 Apr - 30 Nov)
Min/max persons: 2-24
Booking reference: KKNB5
Price: From £ 191 - $ 231 per person
The giant crab with its long legs can grow two metres in size from pincer to pincer. The king crab is huge and magical with its dark red, spiky shell, under which hides sweet and juicy white crab meat. You can help pull the giant up from the depths and taste this Arctic delicacy. 
We set off in our RIB from the king crab town of Kirkenes and head out to the fjord and the sea. There we will pull up the pots that have been on the seabed to catch the king crab. Get involved and help pull up the king crab. 
After the catch has been landed, you will be taken by RIB to a rustic restaurant by the fjord where the king crab is served in the classic Norwegian way. Clean, fresh and with a divine taste from the depths of the sea. Portion sizes are on the generous side, so no one should leave the table hungry.
Other excursions in Kirkenes