Polar nights
The polar nights lie like a blanket over Northern Norway for weeks and months during the wintertime.  However the polar nights and the period without daylight is not truely dark. It is a time where the sky is alive with colours.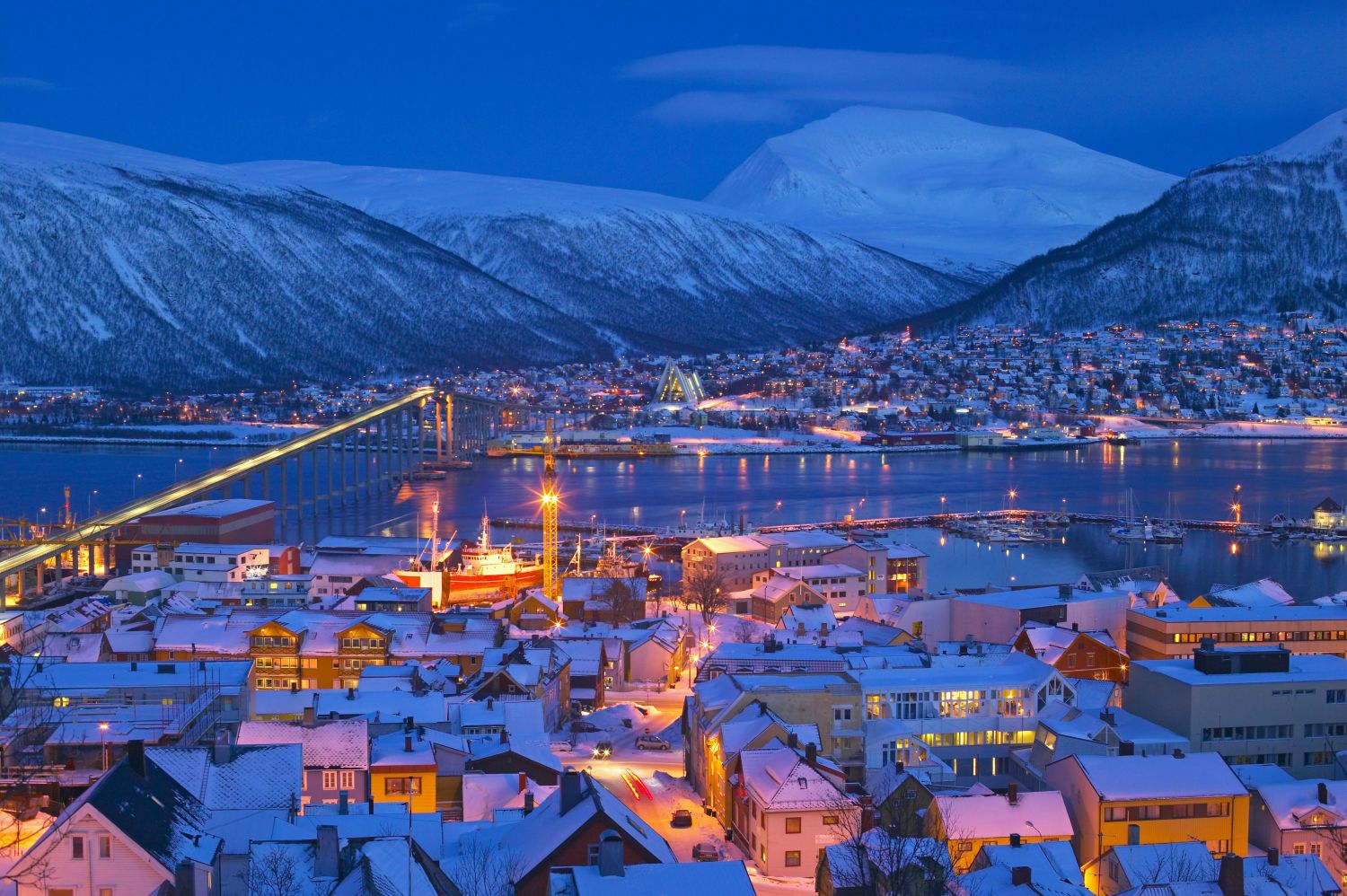 When is the Polar Night?
North Cape: 19 Nov - 24 Jan
Vardø: 22 Nov - 21 Jan
Tromsø: 26 Nov - 17 Jan
Harstad: 1 Dec - 12 Jan
Bodø: 15 Dec - 29 Dec
The sun is below the horizon, but by midday she sends her sunbeams up against the clouds and creates yellow, orange, red, pink and purple sunsets on the southern sky while in the north the sky is in a deep velvety blue. And at the same time, you can see the sky full of stars in the middle of the day.
During the weeks when the light is fighting the dark, in the period running up to the polar nights, or when the spring sun is breaking through, the sunrise and the sunset are only minutes apart. They greet each other with magnificent light beams and colour palettes.

Leaning against the sun
The polar nights – and the midnight sun – occurs due to the earth roatating around an axis that is slightly tilted. In the summer season Norway is angled towards the sun, and therefore get daylight 24 hours a day in the north above the Arctic Circle. But during the winter the country is inclined away from the sun and ends up in the shadow of the earth. Then we have the polar nights. It first occurs in the north, and then slowly it covers more and more of Arctic Norway. The sun sets giving way to the polar night at the North Cape on the 19th of November and will not rise for over two months. While in Lofoten the polar night starts in mid December and lasts for approximately four weeks.
The scientific definition of polar nights is when the sun is located more than six degrees under the horizon, but the common perception of the period without daylight starts when the mountains starts blocking for the sun. That is the reason for Tromsø claims 61 days of  polar night, and when the sun finally rises above the mountains again, there is a celebration in Tromsø with hot chocolate and Solskinnsboller, traditional vanilla buns with icing named for the sun shine.
The polar nights are also perfect for photographers who want to capture the blue light and colors that are reflected in the snow-capped mountains while the northern lights are dancing in the sky.  
Voyages to the Polar Night
Order port-to-port
Click on the button to order. This will take you to our service which will walk you through the order.