Snowmobiling under the Polar sky
This is what an Arctic adventure is like. Zooming across the white expanses in the dark winter evening—or in the spring when the dawning pastel-coloured light embraces the landscape.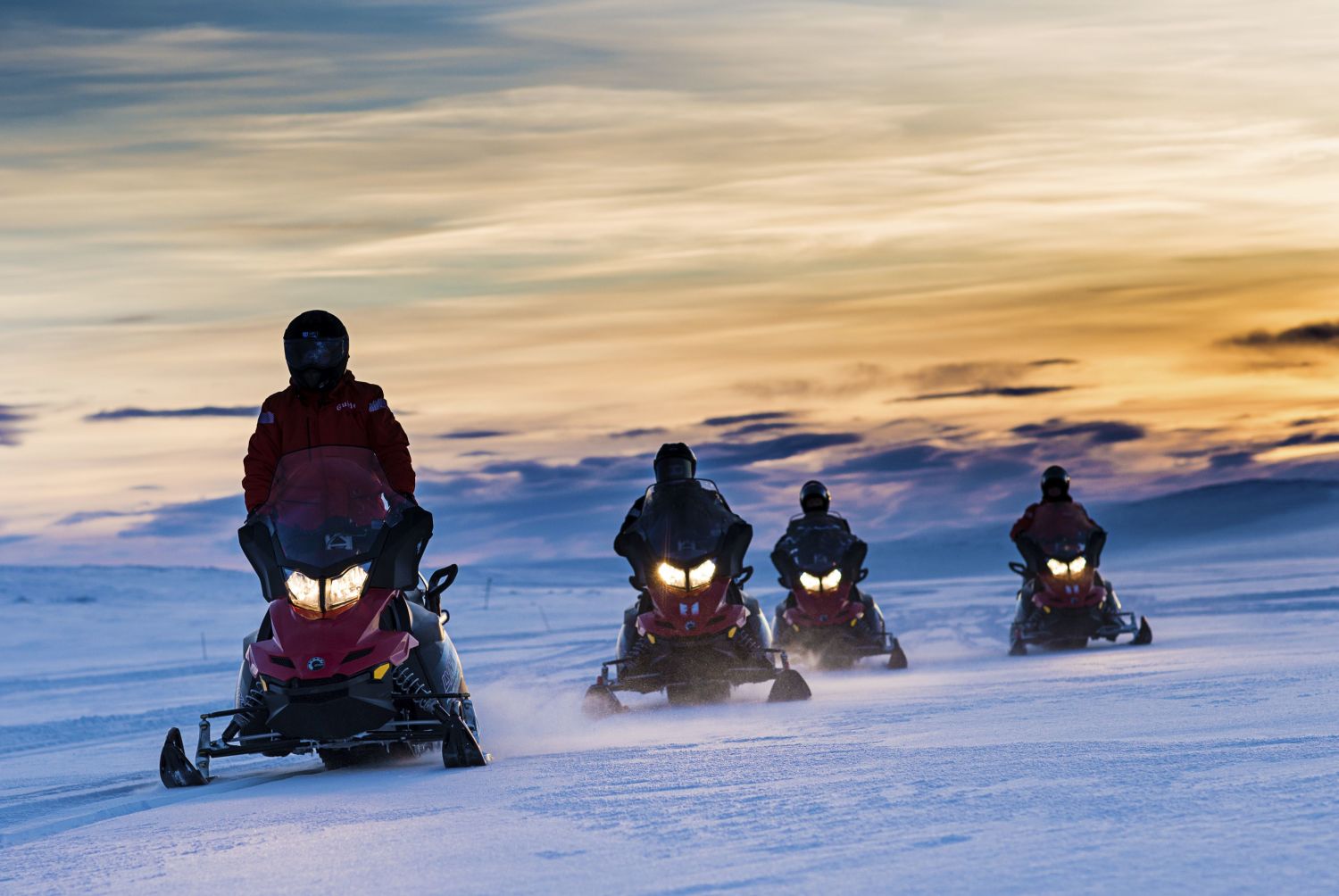 About the excursion
The guide meets us at the quay where the ship docks, and we go to the changing room to put on snowmobile suits, shoes, gloves and helmets. From there it is a short bus ride to the snowmobiles, where an instructor provides driving and safety instructions. The excursion ends at the snowmobile garage in Mehamn, where we change back into our own clothes, before the bus takes us the last few hundred metres via the centre back to the ship. Warm layers are recommended. Snowmobile suits, shoes, gloves and helmets will be ready for you. You must have a driver's licence that allows you to drive in Norway. This excursion goes through an open mountain landscape, and it may be cancelled if the weather is bad.
Direction: Northbound
Disembarkation port: Kjøllefjord
Embarkation port: Mehamn
Time: 16:40 – 19.15
Meal:  None
Level: 2 (Read more)
Season: Winter, spring (15 Dec - 30 Apr) 
Min/max persons: 4-32
Booking reference: KJDN2
Price: From £ 292 - $ 353 per person
Maybe you will see the Northern Lights blazing across the sky. The landscape all around is harsh and barren. Go ashore in the fishing village of Kjøllefjord, and the Havila Voyages ship will sail on while you continue north and east on your new means of transport: a snowmobile. 
Along the way, you will learn more about the people and animals living in the Arctic and about the landscape and climate. And of course you will learn about the Sami people, the indigenous people of the North, and about their way of life and culture.  
Ride through valleys and across plains before reaching Mehamn, the northernmost port on the journey. Park your snowmobile there, and board the Havila Voyages again.
Other excursions from Kjøllefjord