City cycling in Trondheim
Cycling in Trondheim, you reap the benefits of Trondheim's efforts to become one of the most bicycle-friendly cities in Norway. The city's streets have five kilometres of red bicycle lanes, and on the excursion from the Havila Voyages ship along the quay you will also get to test the city's new bicycle bridge.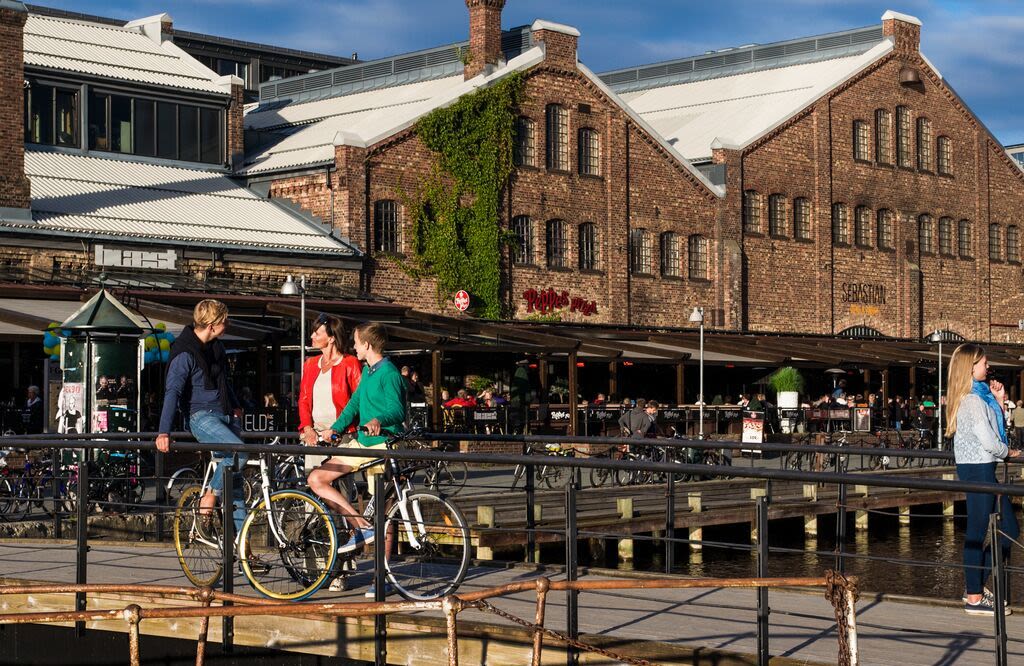 About the excursion
The guides meet you at the quay, and helmets and bicycles will be adapted for you. The guides will accompany you on the trip and back to the quay. Coffee and baked goods are served during the trip. Age limit 12 years, bur you can borrow child seat. 6-8 kilometres on quite flat roads in relaxed pace.
Direction: Northbound
Disembarkation port: Trondheim
Embarkation port: Trondheim
Time: 09:45 - 12:15
Meal: Coffee and baked goods
Level: 3 (Read more)
Season: Spring, summer  (16 Mar - 31 Oct)
Min/max persons: 8 - 30
Booking reference: TRDN2
Price: From £ 104 - $ 126 per person
Across the fjord you have a view of Munkholmen, the small island that has served as a monastery, a fortress and a prison. Then you turn in towards the city centre and cycle along the Nidelven with a view of Nidaros Cathedral, Norway's national shrine and one of the largest cathedrals in Northern Europe. It is a majestic landmark with its towers and spire that measures 91 metres. 
Large, brightly coloured warehouses stand in a row along the Nidelven River, and the old district of Bakklandet has colourful wooden houses and lots of cafés. We stop for coffee and a snack, and, if possible, we try the bike lift, which is the first of its kind in the world. 
Before returning to the Havila Voyages ship, the bike ride takes a final turn past Solsiden, an old shipyard area that has been modernised and now has shops, restaurants and inviting outdoor areas along the river.
Other excursions in Trondheim