Tromsø – Capital of the Arctic
Tromsø, which is called the "Paris of the North", is a lively city with a majestic landscape in its backyard and a dramatic polar history. Take a tour into and up to the very top of the city.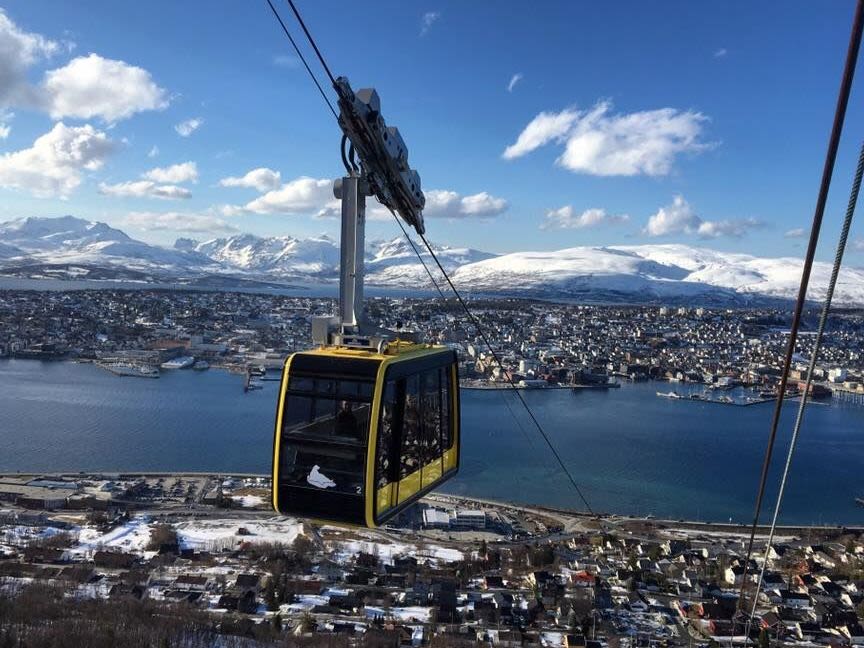 About the excursion
A guided bus tour. Wear comfortable shoes and clothes that keep you warm at the view point at the top of the mountain lift.
Direction: Northbound
Disembarkation port: Tromsø
Embarkation port: Tromsø
Time: 14:30-18:00 
Meal:  None
Level: 1 (Read more)
Season: All year round
Min/max persons: 15-336
Booking reference: TOSN1
Price: From £ 132 - $ 159 per person
Many polar expeditions and fishing boats have set out from this city. 
The Arctic Ocean and the ice-covered North Cape have undiscovered nature and great riches. Get to meet seals and other Arctic creatures in the educational centre in Polaria and learn more about how animals, humans, fish and plants live together in the polar region. You can see the big picture on a 21-metre wide screen in the panoramic cinema. 
The excursion continues to the top—421 metres above sea level—with the Fjellheisen cable car where there are spectacular views of Tromsø and the surrounding islands, mountains and fjords. You can go for a short walk on the mountain or visit the restaurant at the top. 
Before returning to the Havila Voyages ship, we stop at Ishavskatedralen (the Arctic Cathedral). The architecture of this landmark reflects the Arctic; some people see the cathedral either as an image of the Northern Lights or as icebergs or fishing racks.
Other excursions from Tromsø