Geiranger and Trollstigen
Geirangerfjord's splendour is on the UNESCO World Heritage List and on most travellers' "must see" list in Norway. On this excursion we take you from Geiranger and climb to the top of Trollstigen.​​​​​​​​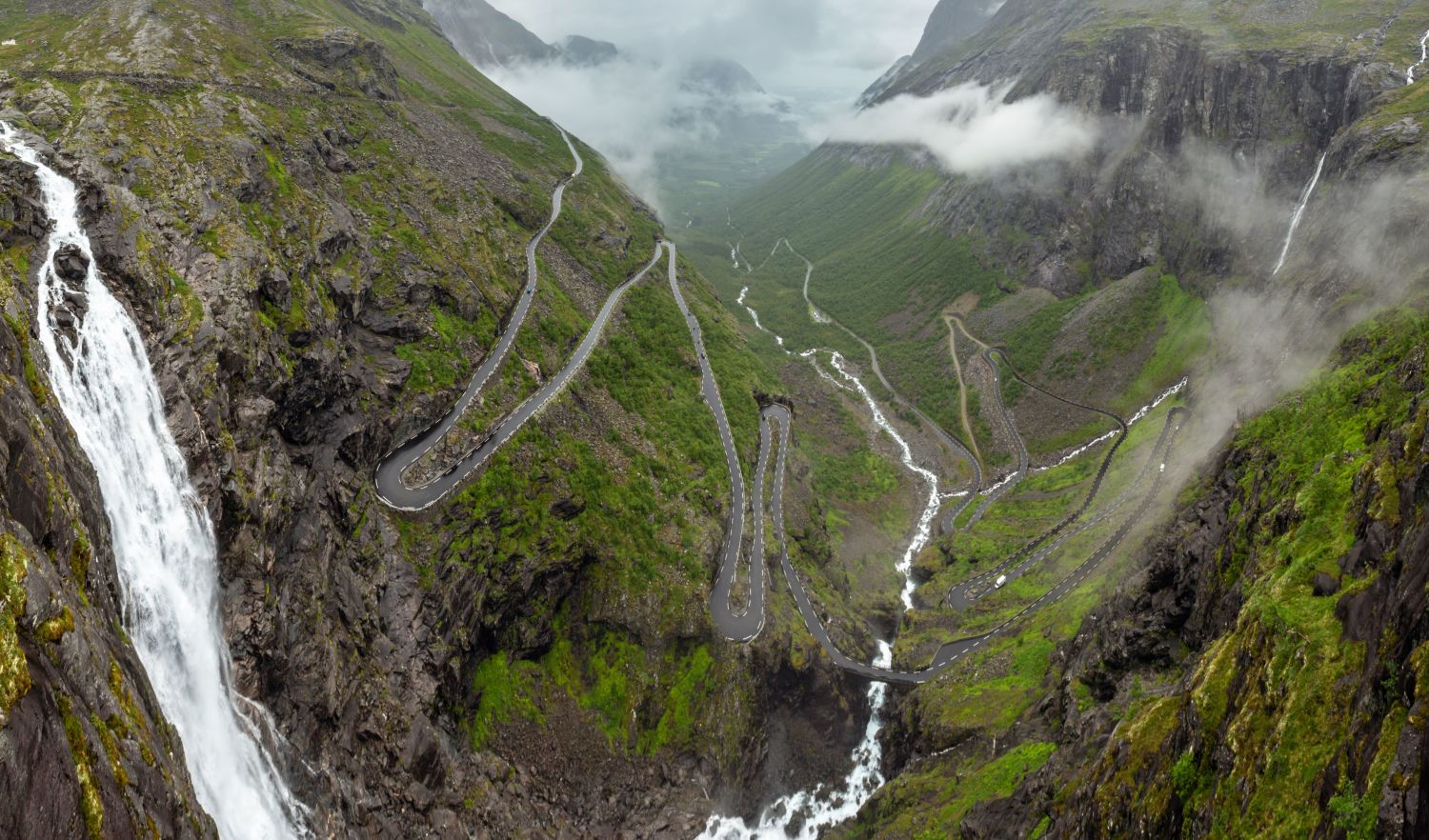 About the excursion
Direction: Northbound
Disembarkation port: Geiranger (to tender boat)
Embarkation port: Molde
Time: 14:15 - 22:15
Meal: Havila Lunch Box with tea/coffee and cake at the Trollveggen Visitor Center. Local fish soup with condiments will be served when you arrive back to the ship.
Level: 1 (Read more)
Season: 1 Jun - 31 Aug
Min/max persons: 23 - 252
Booking reference: GEIN1
Price: from £ 178 per person
This bus tour from Geiranger takes you through beautiful scenery along impressive roads. There will be several photo stops at different viewpoints, and you will cross two fjords by ferry. We will also visit Varden viewpoint on the way to Molde. 
The Norwegian fjord landscape constantly tops lists of the world's most beautiful places, and the Geirangerfjord is the queen of these fjords.  From Geiranger, you wind your way up Ørnesvingene to the lookout point with a panoramic view of the Geirangerfjord with the "The Seven Sisters" waterfalls, the village and the mountains. 
The road continues on through well-maintained agricultural villages, and we take a local ferry across the fjord to Valldal, the strawberry village. There we stop at the wild river rapids at Gudbrandsjuvet before climbing the mountains on our way to the top of Trollstigen. This is an old trail that has miraculously become a road with 11 hairpin bends down the steep mountainside. 
Viewpoints in rough and modern architecture give you a panorama of the road builders' skill as engineers, and the largest viewpoint platform floats 200 metres above the road. 
Safely down in the valley, there is a photo stop with coffee and a snack before we continue on to Molde for dinner and then get back on the ship.  
Trollveggen (The Troll Wall)
At the bottom of the valley, there is a photo stop at Trollveggen. This is the highest vertical mountain wall in Northern Europe and is simply breathtaking. At the visitor's centre we will be shown a great documentary about the dramatic first ascents of the 1,100 metre mountain wall and the first base jumps from the spires. We finish with a visit to the shops and coffee and a snack before continuing on to Molde. On the way we get to experience the Varden viewpoint.  There are panoramic views of the city of Molde with no less than 222 mountain peaks, and on clear days you can see your Havila Voyages ship as it approaches the city. 
We then travel back down to Molde City Centre by bus, where we can look around for a bit before getting back on the ship. Refreshments and local fish soup with condiments will be served on board.