Feast with the Viking chieftain
Join us on a visit to the home of the Viking chieftain in an 83-metre long house, and banquet in true Viking style. ​​​​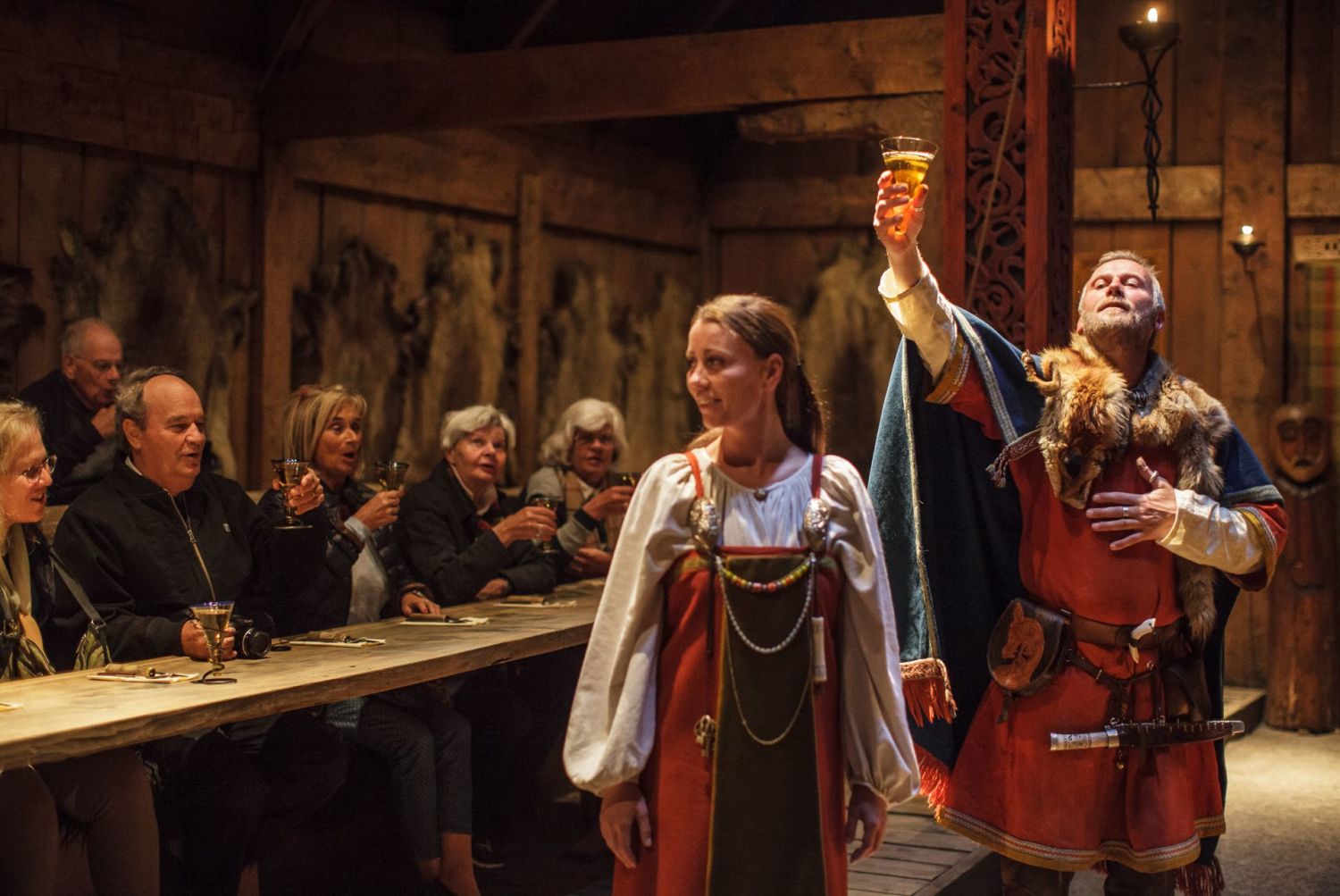 About the excursion
Guests can walk freely around the exhibition.
Direction: Northbound
Disembarkation port: Stamsund
Embarkation port: Svolvær
Time: 19:15-21:50
Meal: Dinner with mead/non-alcoholic alternative
Level: 1 (Read more)
Season: All year round, seasonal entertainment (not available 24.12-26.12, 31.12)
Min/max persons: 20-100
Booking reference: STUN2
Price: From £ 136 - $ 165 per person
During the bus ride from Stamsund to Borg and the Lofotr Viking Museum, you will be introduced to the Viking Age and learn more about the museum and how the Vikings lived so that you are prepared for an evening with the Vikings.  
At the Lofotr Museum, you can go into the largest house found from the Viking Age. Here at Borg, they have built a full scale reconstruction of the house, 83 metres long and 9 metres high. You will be welcomed to the Viking banquet in the great hall of the Viking chieftain. Finds from the Viking Age are on exhibition in the house, and it is decorated for a feast. You will meet Vikings in traditional costumes, there is singing and dancing and you will be served in true Viking style. 
For dinner, there will be lamb, vegetables, barley groats, cranberries, Viking bread, sour cream and butter. Mead, a Viking drink will be served with the food.  
After a hearty banquet, the bus returns to Svolvær. On the tour, you will learn more about Lofoten's history and enjoy more of Lofoten's magnificent scenery. Remember that it is dark for large parts of the winter, but if we are lucky we can enjoy the winter landscape under starry skies and moonlight.