Bergen and Mount Ulriken From Sea to Summit
Discover the history, flavors, and most magnificent views on this emission-free guided tour through the city of Bergen and to the top of Mount Ulriken.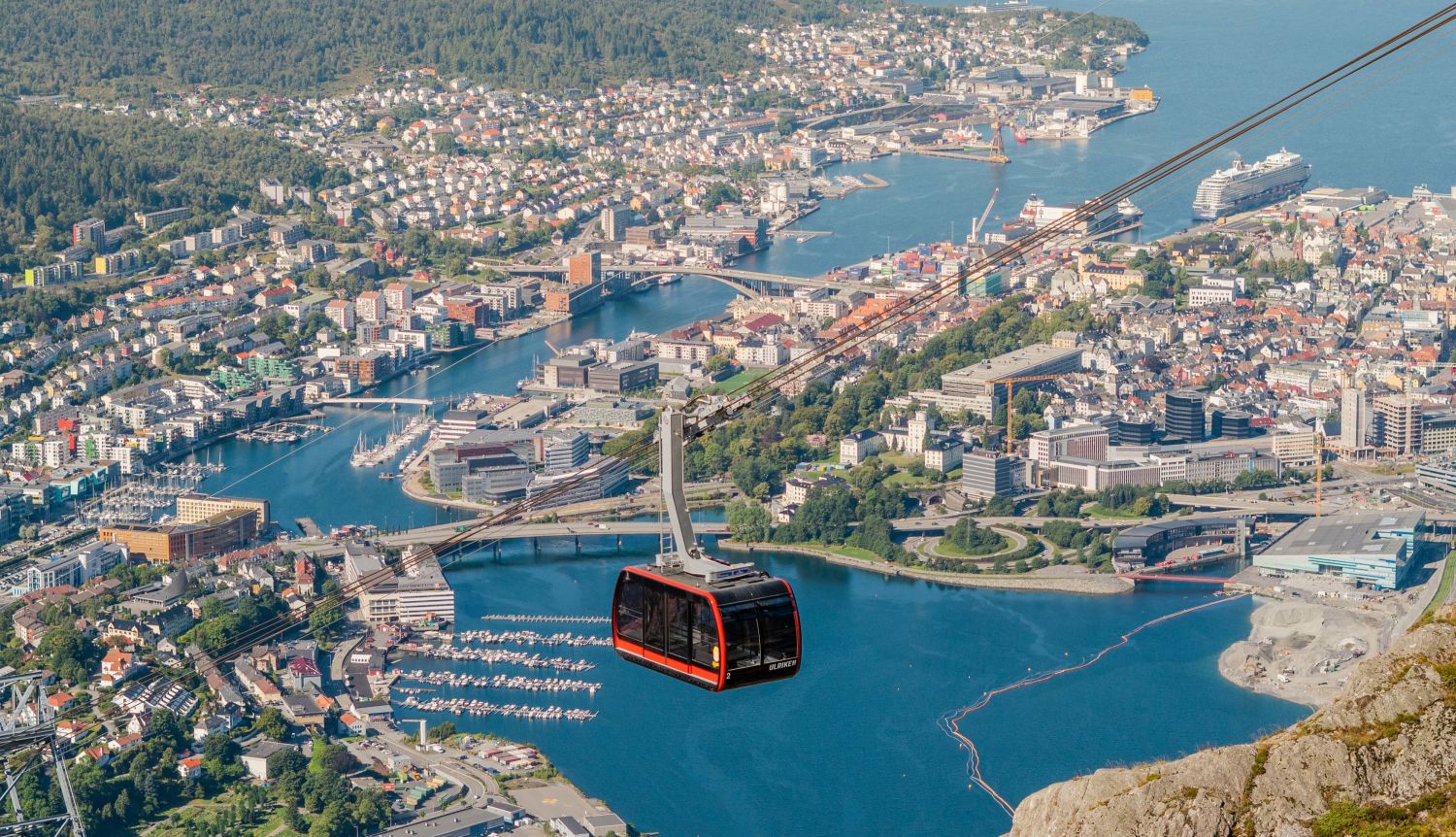 About the excursion
Upon arrival at the terminal, you meet the guide and place your luggage on the electrical bus before going on a tour through the central parts of Bergen. This includes a short, guided walk through the UNESCO World Heritage site, Bryggen. Enjoy the view of Bergen and its surrounding landscapes as you take the cable car to the top of Mount Ulriken, the highest mountain surrounding Bergen, where you will be served the famous Bergen fish soup and a local twist on the cinnamon bun. At the end of the tour, you will be dropped off at your hotel or the city center. Dress appropriately; the weather may change quickly.
Direction: Southbound
Disembarkation port: Bergen
Time: 15:30 - 19:00
Meal: Bergen style Fish soup, Cinnamon Bun (Skillingsbolle), Hardanger apple juice, coffee/tea – (vegetarian, vegan options)
Level: 1 (Read more)
Season: All year round
Min/max persons: 6 - 12
Booking reference: BGOS1
Price: From € 246 | $ 255 per person
A journey along the Norwegian coast is not complete without an authentic experience of Bergen; the gateway to the fjords and the city of the Seven Mountains. With its rich history and spectacular landscape, Bergen has been the largest and most important city in Norway throughout most of its thousand years of existence.
This tour is the perfect way to get an overview of Bergen's highlights and flavors from sea level to the summit of Bergen's highest mountain, Mount Ulriken.
After disembarking the ship, you can leave your luggage in the care of your driver and guide, so that you can focus on your Bergen experience. Jump on an electrical minibus and experience narrow streets while listening to stories about Bergen and why this city is so unique. After passing some of the landmarks and monuments of Bergen city center, you will stop for a guided walk through Bryggen (UNESCO World Heritage-listed) before continuing along some of the city's most picturesque streets offering intimate views of the city.
From the brand new Ulriken Cable Car and the plateau on the top at 600 meters above sea level, you can get truly awe-inspiring views overlooking the city and its surrounding mountains, fjords, lakes, and coastal landscapes. The Ulriken Kafé will serve you the world-renowned Bergen fish soup and a local cinnamon bun along with a glass of Hardanger apple juice as well as coffee and tea.
After this abundance of genuine impressions, you will get into the cable car once again and return to the electrical minibus. It will bring both you and your luggage to your hotel or the city center.