Conquer the Sherpa Stairs in Tromsø
Climb 1300 Sherpa-crafted steps to stunning views and fascinating local insights.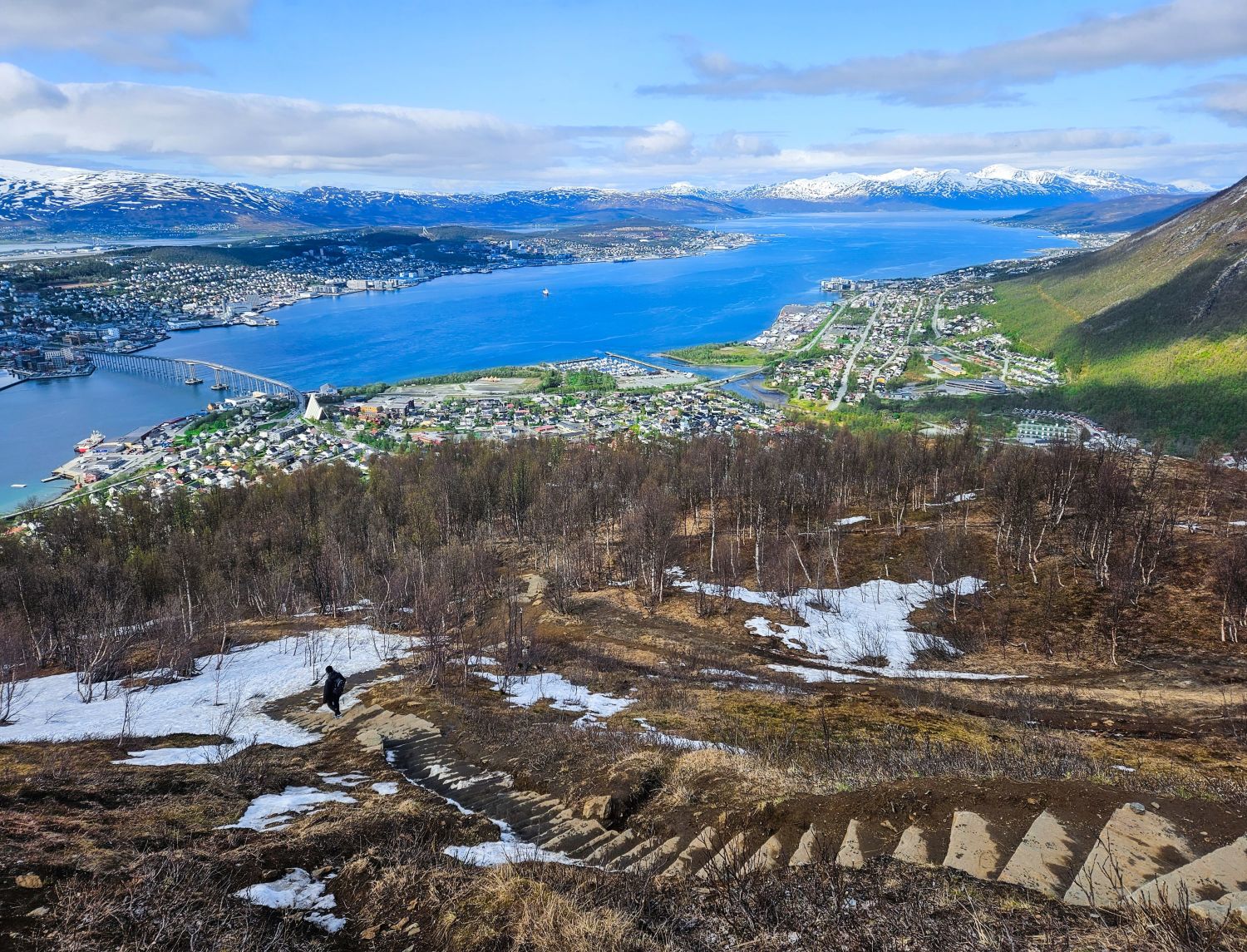 About the excursion
This is a guided hike up to Tromsø's "Fjellheisen", traversing 1300 Sherpa-crafted steps. At the summit, enjoy a treat and coffee before descending by gondola. You get picked up at the quay by bus and transported to the Sherpa stairs. Please wear appropriate footwear and attire in accordance with weather conditions.
Direction: Northbound
Disembarkation port: Tromsø
Embarkation port: Tromsø
Time: 14:30-18:15 
Meal:  Coffee and a snack
Level: 3 (Read more)
Season: 15 June to 30 Sept
Min/max persons: 10-15
Booking reference: TOSN11
Price: From € 157 | $ 163 per person
Join us for an invigorating ascent to Tromsø's most distinctive vantage point, the mountain gondola, "Fjellheisen". Standing atop the mountain, you gain access to captivating vistas of Tromsøya (the Island of Tromsø), as well as the surrounding mountains, fjords, and the various islands dotting the landscape.
The hike follows a clearly marked trail, including 1300 stone steps meticulously constructed by Nepalese Sherpas. Starting with a serene walk through dense forests, the hike transitions at the halfway point to an area where trees cease to grow, offering intermittent glimpses of breath-taking natural beauty. The adventure persists until you attain an elevation of 421 meters.
Upon reaching this height, you will be rewarded with a comforting treat and a steaming cup of coffee before descending via the gondola. Our knowledgeable guides will share insights about the landscapes, local history, and rich culture throughout the journey. This excursion is designed for those desiring an active holiday, and the awe-inspiring view makes the effort immensely rewarding!