Be the Musher in Exclusive Husky Tour
Enjoy the Arctic while mushing your own husky team to Breivikeidet, where you get to taste locally produced food and beverage.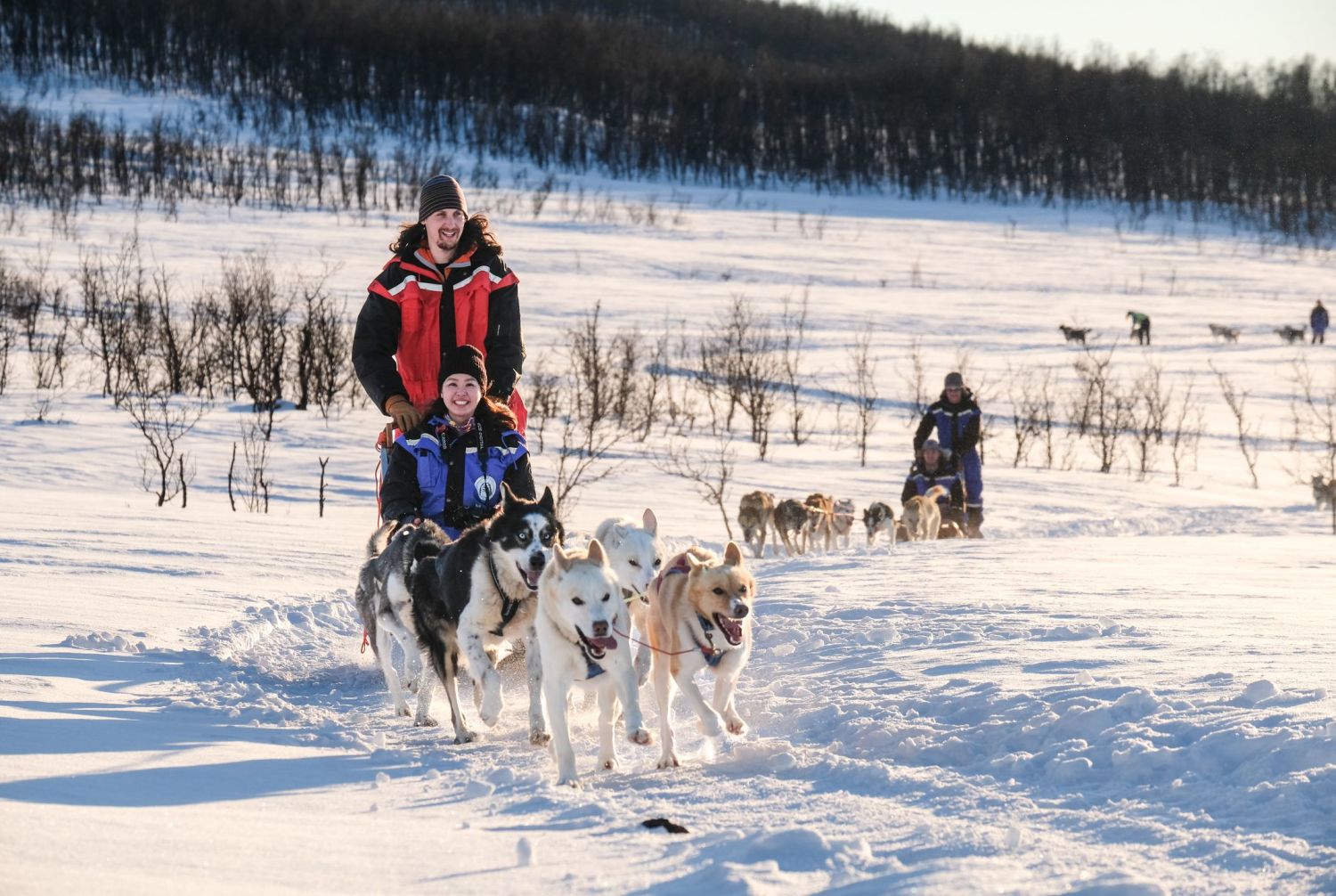 About the exursion
You start out at the gateway to the Lyngen-Alps, where you will get a brief orientation on how to handle the dog sled. You will be handed out a thermal suit, winter boots, socks, gloves, and a hat. Nevertheless, you should dress smart and warmly, preferably with woollen underwear. You will be served a hot drink (chocolate/coffee/tea) and a biscuit, in addition to a taste of locally produced food and beverage.
Direction: Northbound
Disembarkation port: Tromsø
Embarkation port: Tromsø
Time: 14:30 - 18:00
Meal: Hot drinks, biscuits and a taste of locally produced food and drinks
Level: 2 (Read more)
Season: Dec. 15 - Mar. 31
Min/max persons: 8 - 16
Booking reference: TOSN10
Price: From £ 303 - $ 366 pro person
Have you ever thought about leading your own team of dogs on a sled ride? This excursion offers you a great opportunity to do exactly that! The tour lasts for about 45 minutes, running through both tree-lined trails and open terrain. Furthermore, Breivikeidet offers a stunning view overlooking the fjord and the majestic Lyng Alps, with peaks reaching up to 1,400 meters in the sky.
Mushing a dog sled is not particularly difficult, as the huskies love to run, and they automatically follow the team in front of them. However, you will receive a quick orientation prior to your tour, so you won't have doubts about how to handle the dog sled.  
Each guide leads a group of three or four guest teams, each consisting of two people and one sled. Thus, solo travelers may have to share a sled with another guest or one of the guides. You and your teammate switch positions halfway through, so you both get to try your hand at being a dog musher.
During the tour, the guide will tell you the story about the Alaska Huskies and their daily life. Finally, you will be served a taste of local food and a hot drink.